A workshop to explore one of the deepest problems of human consciousness through meditative self-inquiry and dialogues (in English and French)
Fear is one of the most dominant factors in our life. Most of our activities, education, jobs and relationships are governed and corrupted by this psychological fear – whether one is aware of it or not. Throughout life, fear remains hidden behind a constant drive for security… As long as mind is clouded and governed by fear it is unable to look, deeply rest and perceive clearly and therefore most of its actions are going to create further confusion, chaos and sorrow. In this Meditative Self-inquiry Workshop we are together going to explore, as friends and co-learners, such fundamental issues confronting most of us:
What is fear and what is the origin and source of all fears?
I am forever seeking security in various things: in knowledge, in authorities, in gods, in money and in relationships. But do I ever get the complete security anywhere I look for..? What is true security?
As long as there is fear can love, beauty and joy exist in our life and relationships?
Is there a deep looking into the eyes of the fear and therefore an ending to it?
Exploring fear is the central theme of this workshop. It is clear that no intellectual or verbal understanding of fear shall ever solve this great issue. Rather we need sensitivity, honesty and affection to embark on this extraordinary journey to understand fear. We are going to inquire, as friends and co-travellers, the central question of our day to day life in a relaxed, meditative and affectionate atmosphere. The primary intention of this retreat is that our entire day becomes a meditative process by taking a complete break from our daily mechanical way of living and allowing our minds and hearts to deeply rest, rejuvenate, reflect, observe, and listen…
VENUE: It is a small beautiful village in the Alps of Switzerland, about two hours from Geneva International airport.
BATHS: It is possible to take hot and saline baths in the 300 year old tradition of Bex-les-Bains where dozens of illnesses have been cured. In the purity of this water, surrounded by these snowy peaks, it is a moment of deep relaxation and contemplation.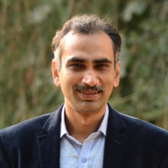 Mukesh has been exploring the fundamental questions of life as well as the teachings of J. Krishnamurti for two and a half decades. He is an international speaker and regularly facilitates self-inquiry based retreats, workshops and dialogues in India, Europe, Israel, US, Canada and wherever he is invited. He has conducted over hundred retreats and seminars in different parts of the world during the past one decade. He sees that a deep non-authoritarian meditative process of self-inquiry, based on love, listening and looking from a silent state of mind and heart, is essential to establish peace, harmony and compassion in one's daily existence and society.
His website: www.schoolforselfinquiry.org
Day Schedule (with flexibility on daily basis, according to the need and the dynamics of the group):
| | |
| --- | --- |
| 08:00 – 08:30 | Sitting together in silence |
| 08:30 – 09:30 | Breakfast |
| 09:30 – 12:00 | Introductory talk and meditative dialogue/self-inquiry |
| 12:00 – 12:30 | Working together in the gardens |
| 13:00 – 14:30 | Lunch and rest |
| 14:30 – 15:30 | Video of J. Krishnamurti's talk |
| 16:00 – 17:30 | (After Tea) Nature walk in Silence |
| 18:00 – 19:00 | Supper |
| 19:00 – 20:00 | Gettogether, sharing and sittingtogether in silence |
Logistics
Arrival : First meeting and introduction on Wednesday, 4 Novemberafter dinner at 7 pm
Departure :Sunday 8November ​after breakfast
Total contribution: 600.- ( with one bath)
Advance registration fee: 200.-
For details and reservation contact: ​Bernard at: info@riversong.ch, 00 41 79 607 80 65